Course details
All you can drink as much as 100 minutes! Combination free! 3980 yen Very affordable choice course!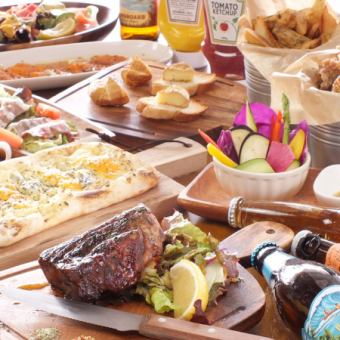 By using a coupon3980 yen
All-you-can-drink available

All you can drink is more than 50 kinds depending on the combination! Fulfilling lineup!
Reservation deadline

Until 19 o'clock on the desired date of coming to the store
Available days for reservation

Monday - Sunday - Public holidays - Holidays
All you can drink at a price of 100 or more depending on the combination! Course cuisine begins with a recommended platter and you can choose your favorite things from tapas, vegetable dishes, pizza, main etc. Categories are original only for you You can make! Because it is not a common decision course, it is very profitable! Moreover, since you can choose it, it is just what you want to eat!
Course menu
<MELLOW recommendation assortment>
Spicy raw spring roll, junkie chicken, homemade pickle
<Appetizer Choice 1 Please select 1 item from the following>
· Anchovy potato salad · Asparagus bacon
· Smoked Camembert Cheese · Mexican Choice
<Appetizer choice 3 Please select 3 items from the following>
· Stir fry mushroom lemon butter · Andean potato fly
· Raw ham slice · bacon and mushroom's foil grill
· Steamed mussels white wine · Fresh fish carpaccio
<Vegetable choice 1 Please select 1 item from the following>
· Grilled bacon salad · a lot of ingredients Cobb salad
· Bagnacauda of vegetables · Roasted fresh vegetables
<Pizza Choice 1 Please select 1 item from the following>
· Avogerita
· Four cheese pizza
<Main choice 1 Please select 1 item from the following>
· Herb grill of chicken thigh meat
· Kirishima pork steak
· Homemade roast beef
<dessert>
All-you-can-drink menu
·draft beer
· The Premium Malts fragrant Ale Shandigafu
·Highball
· Jim Beam High Bowl · Cork High · Ginger High
·sour
· Lemon Sour · Grapefruit Sour
·wine
· Carlo Rossi glass red · white
· Shochu
· Edo dragon barley · potato <rock · water split · soda crack · hot water split>
·Cocktail
· Cassis · Peach · Campari · Campari · Kalua · Gin · Vodka · Tequila · Lamb × Soda · Ginger · Tonic · Orange · Grape
·Soft drink
· Oolong tea · Cola · Gingerae · Tonic water · Orange juice · Grapefruit juice · Calpis
2019/01/11 update